Check out this recipe on my new and improved website:
thewalkingcookbook.com
Ahh, the Chocolate Chip Cookie. Some like theirs chewy, others crispy. Some with nuts, some plain jane. Some dense, some fluffy. But is there a perfect chocolate chip cookie hiding out there, waiting to be discovered and loved by everyone? That's what this week's goal is: a classic, perfect chocolate chip cookie made by memory. No frills, no modifications... just a seriously good cookie.
I'll be baking for my roommates and new neighbors (I recently moved and am dead set on meeting the other tenants on my floor-- a rare feat in Manhattan apartments). This had better be an outstanding cookie or my neighborly reputation is on the line!
I found my recipe at Handle the Heat, where blogger Tessa raves about the perfection and simplicity of this cookie, adapted from All Recipes. Ultimately, it beat out Alton Brown's scientifically exact yet slightly overwhelming "Chewy" from Good Eats: The Early Years and the "Ultimate Chocolate Chip Cookie" from The Fearless Chef, which Andy Husbands and Joe Yonan offer up in friendly competition with any other cookie around.
I am hoping for a cookie that is crispy on the edges, chewy on the inside, has moderate spread, and is generally easy to bake. What makes the perfect Chocolate Chip Cookie for you?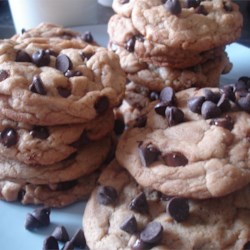 This mouthwatering picture makes me wish it were already Saturday
The Recipe: No Frills Chocolate Chip Cookies, adapted from Handle the Heat
Yield: 4 dozen cookies
Ingredients:
3 cups all purpose flour

2 cups semi-sweet chocolate chips

1 cup white sugar

1 cup brown sugar, packed

1 cup unsalted butter, softened

2 eggs

2 tsp vanilla extract

2 tsp hot water

1 tsp baking soda

1/2 tsp salt
Preparation:
Preheat the oven to 350°.

In a large mixing bowl, cream together the butter, white sugar, and brown sugar until smooth.

Beat in the eggs one at a time, then stir in the vanilla.

Dissolve the baking soda into the hot water. Add the mixture and the salt.

Mix in the flour gradually until incorporated.

Fold in the chocolate chips.

Place large, even spoonfuls of dough on a parchment-lined baking sheet.

Bake for 10 minutes or until the edges are nicely browned.
Time to memorize: 3.5 days. Baking on Saturday morning.